ACCOUNTABILITY
"Neither model was intended to generate Buying Guides or to relieve consumers of their own individual responsibilities to understand the product that they are spending their hard-earned money to buy after all. 
ACLI - Michael Lovendusky 
2018/11/09 - LIIIWG <Bonk>
"Second, it was observed that ..... there is virtually no accountability for any of the participants in the sale, not for the company, not for the agent, and interestingly, the white paper discussed accountability on the part of the purchaser as well."
--Robert E. Wilcox - Chairman of the Life Disclosure Working Group (NAIC)
1994 - PROBLEMS AND SOLUTIONS FOR PRODUCT ILLUSTRATIONS,  Society of Actuaries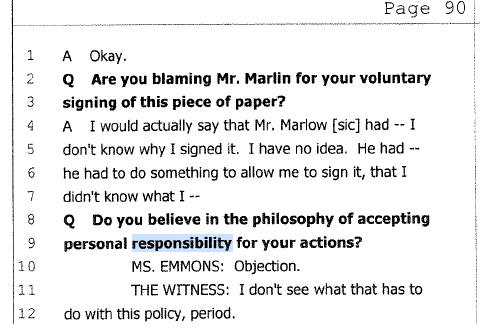 Thanks for doing the research.  A lot of people don't understand why the illustration model reg is the way it is.
Fred Andersen
---
 "Commissioner Wilcox said that he admitted that the working group <Life Disclosure Working Group>  had gotten a little sloppy on its terminology, but it had been clear all along that the working group was focusing on sales."
1996-4V2, NAIC Proceedings
2019/9/17, NAIC LIIIWG -  <Bonk>
In my experience very smart people don't really know what all the components mean.  I mean I feel like it does lead to confusion. 
So, I think ... if you can refer to the eventual illustration and just show the cash value. 
Teresa Winer
<Target Audience for Life Insurance Buyer's Guide>
LIFE INSURANCE [SOLICITATION] DISCLOSURE MODEL REGULATION
COMMENT: Since new subsection S(c) contains requirements applicable to existing policies, the name of the regulation should be revised to indicate that it applies in more situations than just solicitation.
1983-1 (p524) - NAIC Proceedings
---
<Plan of Insurance, Shopping Guide or not?>