Cash Value (Account Value) (SIV-Self Insurance Value)
Traditional plans are fairly simple in their structure.
One can look at their premiums, their cash values and their dividends, if there happen to be any. 
Universal life presents something of a paradox. 
--  BEN H. MITCHELL
1981 - Universal Life, Society of Actuaries
A great deal of the confusion seems to stem from a lack of understanding of how cash value insurance products work and a lack of understanding of insurance terminology.
Also, because most people presume that if you pay your premium continuously, your policy will remain in effect, quite a few people had a hard time understanding how or why the policy would terminate in policy year 31.

This was simply foreign to their way of thinking.

One person was so confused that he said that the maturity age and endowment benefit were moot points,

since the policy was going to end at year 31 anyway.
1990-1A NAIC Proceedings - NAIC LIMRA - Universal Life Disclosure Form Test Market Results - 10p
One would be, for example, term life insurance, I think you could totally deregulate...people understand term life insurance and so on.
You get into some of the cash value products, people are very confused.
They need help. --  They need information. --  It is a very difficult product.
--  J. Robert Hunter, Director of Insurance, Consumer Federation of America
2004 0331 - GOV - WORKING WITH STATE REGULATORS TO INCREASE INSURANCE CHOICES FOR CONSUMERS - PDF: 205p
Gary Sanders (National Association of Insurance and Financial Advisors—NAIFA) agreed that use of the term "cash value" was confusing.
2017 0217 - NAIC - LIBG WG Conference Call
According to the Illustration, "[c]ash value accumulation is important because it is used to pay insurance costs and other charges (monthly deductions) necessary to keep the policy in force and because it can also be  withdrawn to help meet a policyowner's other financial needs. . . ." Id
2008 - Legal Case - Blumenthal v New York Life
PLAINTIFF'S RESPONSE TO DEFENDANT'S MOTION FOR SUMMARY JUDGMENT AND BRIEF IN SUPPORT
Case 5:08-cv-00456-F - Document 85 - Filed 06/01/10 - Page 10 of 37
The primary purpose of the policy's Cash Value is to fund the Cost of Insurance.
1999 - Suitability, Dearborn Continuing Education
A cash value is therefore by definition a savings account whether we choose to call it that or not. 
--   ALAN RICHARDS <EF Hutton>
1981 - THE FUTURE OF PERMANENT LIFE INSURANCE, Society of Actuaries
Unlike a term policy, which can end after a specified number of years, permanent life insurance will continue to the policy's maturity age so long as premiums are paid.
(Note that this isn't exactly accurate for UL, where policies can continue as long as the cash value is sufficient to pay the policy charges. We may want to make that distinction.) 
2017/11/15 - ACLI Letter, NAIC LIBGWG
Despite the fact that there are cash values in the thirty‐year term contract, from a consumer's viewpoint it has no savings element.
All of the premium is required to provide the thirty years of protection.
The savings element in the thirty‐year endowment is the difference in the premiums of the two contracts.
--  Paul Overberg
1973 - PRICE DISCLOSURE AND COST COMPARISON, Society of Actuaries 
Why can't I compare cash value products and have some sense of what is going on in the marketplace?
Because the notion—I mean, it really is a problem, and it is a problem that is underaddressed because everyone is so focused on solvency that they forget all these other important regulatory issues. (p26)
-- Daniel Schwarcz, Law Professor
2011/09/14 - EMERGING ISSUES IN INSURANCE REGULATION - 51p
This creature called universal life has evolved from a combination of term insurance and a flexible premium annuity to a range of differing products with various design features.
Common to any of these variations is the fact that future cash values cannot be determined completely at issue.
Cash values (and other benefits) are produced by a formula that is specified in advance. Some of the various elements used in the formula, however, can be adjusted after issue by the insurer. 
6. THE CONCEPT OF THE BENEFIT GENERATING ACCOUNT
We have mentioned several times that the function of the account value is to determine future benefits. 
1983 - UNIVERSAL LIFE VALUATION AND NONFORFEITURE: A GENERALIZED MODEL, Shane A. Chalke and Michael F. Davlin, Society of Actuaries - [PDF-72p]
Cash value policies differ from term insurance in three important ways.
First, the premiums for a cash value policy are initially much higher than for term insurance for the same amount of insurance protection.
Second, unlike the premiums for term insurance, cash value premiums do not go up with age, but remain the same throughout the payment period.
Third, these insurance policies develop cash values which increase each year.
1979 - GOV - Small business problems with insurance - Part 1
Cash values, which are the residual amounts of prefunding reserves returned to policyholders if the contracts are terminated, are secondary benefits.
-- Technical Resource Group <Industry>

1994-1, NAIC Proceedings
And, despite the stellar performance of variable funds, in reality policyholders often allocate a large percentage of their premium to the fixed account.
--  ANNE M. KATCHER (Equitable)
1992 - Product Management, Society of Actuaries
2004 - AP - UNIVERSAL LIFE INSURANCE – ASPECTS OF THE CASH VALUE DEVELOPMENT, Martin Birkenheier - 146p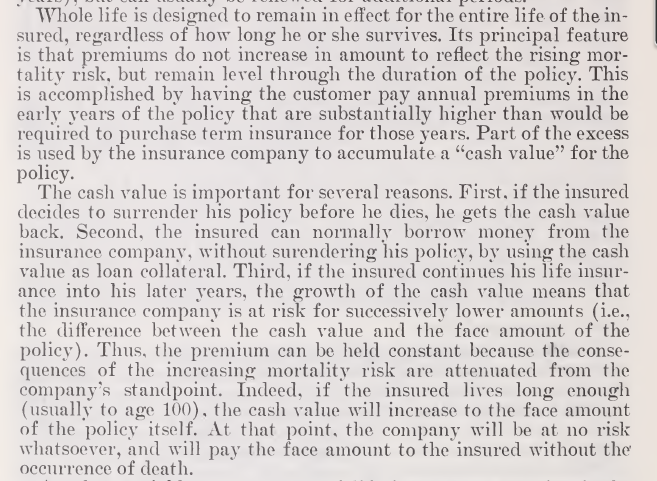 1978 - GOV - Life Insurance Marketing and Cost Disclosure Report - Moss - 106p 

-- STATEMENT OF THOMAS GREGG, CHAIRMAN, COMMITTEE ON
FEDERAL LAW AND LEGISLATION, NATIONAL ASSOCIATION OF
LIFE UNDERWRITERS <NAIFA / NALU>, p314
1983 - GOV - Tax Treatment of Life Insurance