Certainly customers are not going to be happy if they get a dividend considerably less than the dividend that has been illustrated.
That is a fact of life that we have to worry about and be concerned about.
--  RICHARD M. STENSON
1980 - PREMIUMS AND DIVIDENDS--PARTICIPATING INSURANCE, Society of Actuaries
Dividends paid on life insurance are, in effect, only an adjustment in the premium paid -- a price reduction. (p60)
1977 - Treasury - Blueprints for Basic Tax Reform
Manipulation, Lapsation, Dividend Practices and Annuity Task Force - NAIC
While we work to resolve the dividend issues, there are those who say that we are at best deciding what color to paint a dinosaur.
1982 Journal - American Academy of Actuaries
Traditional plans are fairly simple in their structure.
One can look at their premiums, their cash values and their dividends, if there happen to be any. 
Universal life presents something of a paradox.

--  Ben H. Mitchell

1981, UNIVERSAL LIFE, Society of Actuaries
For this reason, mutual insurers need to accumulate a surplus to protect against such adverse contingencies as heavy losses or a decline in investment return.

Any money left after paying all costs of operation is returned to the policyholders in the form of dividends. 
Fundamentals of Risk and Insurance, 1Oth Ed. Vaughn, (p77)
Hal Phillips (Calif.) asked whether it was appropriate to include the term "dividend" as a nonguaranteed element.

He said the dividend was derived from nonguaranteed elements, so he saw this as a semantic problem.
 1994-4, NAIC Proceedings
There are many techniques used by companies to calculate policyholder dividends, but many companies use factor formula methods utilizing the statutory reserve as an input item in the calculation of the interest and mortality components.  (p23)
Statutory Valuation of Individual Life and Annuity Contracts | 5th Edition, Claire, Lombardi and Summers
II. REGULATORY REQUIREMENTS FOR LIFE INSURANCE ILLUSTRATIONS
The policy performance and features illustrated to the buyer have been an issue with regulators for at least a century.
At the turn of the century, there was concern about the tontine dividends that companies illustrated to their customers.
An outgrowth of the Armstrong Commission was the required annual distribution of dividends and the elimination of tontines based on survivorship.  (p143)
1991-1992 - FINAL REPORT* OF THE TASK FORCE FOR RESEARCH ON LIFE INSURANCE SALES ILLUSTRATIONS  - 142p, Society of Actuaries
Wish List
1974 - Philosophies in the computation and dissemination of dividend illustrations, Society of Actuaries (Committee on Cost Comparison Methods and Related Issues (Special) - 85p 
After studying various possibilities, it was decided for this initial distribution to make the dividends on the permanent plans of insurance the same as on the Term.
1950 - NATIONAL SERVICE LIFE INSURANCE, Society of Actuaries - 19p
The Academy report, Dividend Recommendations and Interpretations (November 1985), describes this principle as the distribution of the aggregate divisible surplus among policies in the same proportion as the policies are considered to have contributed to divisible surplus.
In a broad sense, the Contribution Principle underlies the essential equity implied by participating business .
1987 - AAA Journal 
Index Code : 1981-12
To: NAIC Life Insurance (C3) Subcommittee
<From: American Academy of Actuaries>
Date : June 2, 1981
Length : 12 pages beginning on page 144
Concerning : Dividend principles and practices
Background : This statement was presented at a meeting of the Task Force on Manipulation, Lapsation, Dividend Practices and Annuity Disclosure of NAIL Life Insurance (C3) Subcommittee as a status report of the activities of the Committee on Dividend Principles and Practices . This statement follows previous submissions on this subject to the NAIC ( see statements 1979-14, 1960-18, and 1980-32) .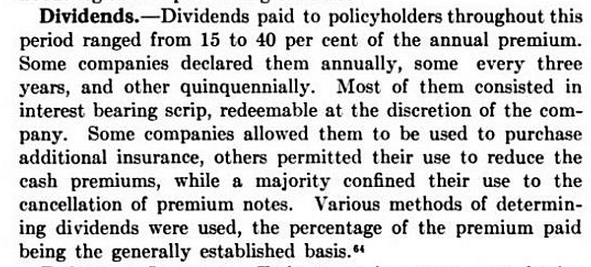 1920 - The History of Life Insurance in the United States to 1870: With an  Introduction to Its Development Abroad, Charles Kelley Knight, University of Pennsylvania