Consumer Testing / Focus Groups
NAIC Working Groups - Current / Recent
2015/8/16
LIAC CC
 
 He <Birny Birnbaum (Center for Economic Justice—CEJ)> said it is important that state insurance regulators determine if illustrations are accomplishing what they are intended to accomplish, how they are being used and whether consumers understand them.
Mr. Birnbaum also suggested that illustrations should be consumer-tested.
2016/5/17
LIIIWG
2016-2
 
 He <Mr. Wicka> said that a report could include a recommendation that consumer testing is needed. 
2016/5/17
LIIIWG
2016-2
John Feeney (Prudential Life Insurance) said that the American Council of Life Insurers (ACLI) task force formed to discuss the Life Insurance Illustration Issues (A) Working Group is chaired by Prudential Life Insurance and Northwestern Mutual Life Insurance He said the companies participating on the ACLI task force are not supportive of consumer testing at this time
 
2019/11/15
LIIIWG 
ACLI Letter

Such a fact-finding might profitably begin with a professionally (or perhaps academically) constructed, objectively managed consumer test of representative sample policy summaries and narrative summaries. This approach was discussed by the Working Group in 2016. The ACLI supplied the NAIC and interested parties with access to numerous sample policy summaries and policy narratives. However, they were never consumer-tested to determine whether they were, in fact, unreadable or incoherent to consumers. Rather, the idea of consumer-testing, which was supported by industry and funded consumer representatives, was tabled in favor of exploring the development of a voluntary, short, consumer-oriented document which might theoretically supplant existing policy and narrative summaries.
2020/7/24 - LIIIWG Conference Call <Bonk>
2020/7/24
LIIIWG
ACLI - Pat Reeder

-Idea of the Informed Consumer

3 Broad Recommendations:
1) Consumer Testing -Fundamental Question: Will this form enhance the customer experience?  
2)  Enhance the NAIC Electronic Consumer's Guide -  NAIC Life Insurance Information - Example: SEC Summary Prospectus
3) Have a larger discussion about the disclosure and buying process... backed with data driven studies to understand when consumers need what information in the buying process.  Consider the information available at each point in time.

Disclamer :  If we are going to have a meaningful conversation everybody has to walk in with putting aside their presuppositions.  In other words, if the conclusion of the analysis is that a change needs to be made, then we need to embrace the change.  If the conclusion of the analysis is that a change doesn't need to be made, then we need to embrace that no change needs to be made...or whatever that embracing is...

If the 3 broad recommendations get baked into the work plan, we think that will help the process.
2020/7/24
LIIIWG
Richard Wicka

 The issue of Consumer Testing has come up before the group and I think it's a good point and something that we need to keep in mind. 

That's not something that our Working Group can do on it's own, but if that is the will of the Working Group we can certainly make a recommendation to the A Committee that Consumer Testing be explored.  One of the things we've been struggling with is the Chicken and Egg problem.  My hope is if we have some samples that there is some general consensus around then we have something to test.  And, I guess, there's some disagreement around whether or not that's needed at all.  

As far as comments 2 and 3, I'm not sure that those are things that our Working Group can address, but I appreciate how this workstream goes into those larger issues.
2020/7/24
LIIIWG
Birny Birnbaum

In response to the ACLI Comments:
Those 3 broad issues are really appropriately addressed at the A Committee, not to this Committee <Working Group>.  This Committee <Working Group> has a specific charge to do.  And particularly items 2 and 3 are outside of those charges.  In fact, there is another NAIC Life A Committee <LIFE INSURANCE ONLINE GUIDE (A) WORKING GROUP>..... Second point that Mr. Reeder raised.    

In response to point 3, CEJ has already proposed a broader look at Illustrations.  And that should be a topic at the Summer National Meeting at the A Committee.  In terms of Consumer Testing, we always asked for Consumer Testing, but it requires funding and the Working Group is not a position to either ask for or direct the expenditure of such funding.  It has to come through the NAIC or through private parties.  So, again, these are not issues that are not appropriately before this Working Group.  
2020/7/24
LIIIWG
Jodi Lerner 

To the extent that we can reach out to the appropriate folks, I think it would be a good idea to get Consumer Testing... especially as we're going along and we are looking at other types of Life Insurance.
2020/7/24
LIIIWG
Richard Wicka

As I mentioned, I think it would be perfectly appropriate for us to make a recommendation on Consumer Testing. 
He <Ario - Pennsylvania> said the consumer complaint analysts in a state are a "focus group" that each state should rely on.
2009-3, NAIC Proceedings
Words: Focus Groups, Consumer Testing, Test Market, Survey
NAIC
Consumer Issues Disclosure Working Group
1979-2, NAIC Life Insurance Committee -
Advisory Committee on Monitoring the Impact of the NAIC Model Life Insurance Solicitation Regulation

Consumer Reaction to Cost Disclosure: An Annotated Bibliography of Studies
---
1990-1A NAIC Proceedings - NAIC / LIMRA Focus Group - Universal Life Disclosure Form Test Market Results - 10p
1993 - Policy Information for Applicant- Universal Life - 3p, Life Insurance Disclosure Model Regulation - Appendix D
       Located in 1993 -  GOV - When Will Policyholders Be Given The Truth About Life Insurance? -  p63-65 
http://www.bonknote.com/universal-life-disclosure-form-test-market-results/
---
2001-1V2 NAIC Proceedings -  Do Product Disclosures Inform and Safeguard Insurance Policyholders? -11p
ACADEMIC
1972 - An Empirical Investigation of Attitudes Toward the Life Insurance - Marketing - 181p 
1978 - Consumer Accessing and Use of Information in Making Life Insurance Purchase Decisions, Jacob Jacoby - 124p
1981 - The NAIC Model Life Insurance Solicitation Regulation: Measuring the Consumer Impact in New Jersey, Roger A. Formisano - 22p
ACTUARIAL
1982 - UNIVERSAL LIFE UPDATE, (rsa82v8n34) - Society of Actuaries - 26p
1991 - ILLUSTRATIONS, Society of Actuaries
1991-1992 -  Final Report of the Task Force for Research on Life Insurance Sales Illustrations, Society of Actuaries - 142p
1996 - Nonforfeiture Law Developments, Society of Actuaries - 23p

INDUSTRY
2005 - REGARDING YOUR DIRECT RESPONSE OFFER
BY PETE JACQUES & RONALD R. NEYER, SOA
As published in the Winter 2004 edition of LIMRA's MarketFacts Quarterly
Barometer
MAP - "Monitoring the Attitudes of the Public"
LAW
2014 - The No Reading Problem in Contract Law  - 66p - Ian Ayres* & Alan Schwartz, Stanford Law Review
Life Insurance Buyer's Guide Working Group
Life Insurance Illustrations Working Group
---
Product Development Task Force
Consumer Disclosure Issues Working Group
David Lyons (Iowa), William Hager (Iowa)
NAIC (National Association of Insurance Commissioners)
A great deal of the confusion seems to stem from a lack of understanding of how cash value insurance products work and a lack of understanding of insurance terminology.
Also, because most people presume that if you pay your premium continuously, your policy will remain in effect, quite a few people had a hard time understanding how or why the policy would terminate in policy year 31.

This was simply foreign to their way of thinking.

One person was so confused that he said that the maturity age and endowment benefit were moot points, since the policy was going to end at year 31 anyway."
1990-1A NAIC Proceedings - NAIC LIMRA - Universal Life Disclosure Form Test Market Results - 10p
4) Illustrations Focus Groups
One of the key motivations of the working group is the conviction that an illustration should be more of an education tool than  a  sales  tool.  He  said  to  be  sure  that  the  illustration  format  the working group devises will educate rather than confuse the consumer, the group has expressed an interest in having testing done with focus groups. 
1994-4, NAIC Proceedings
Actuarial
MR. KELLER <Northwestern Mutual>: I'll respond briefly to the suggestion that we use focus groups to get the consumer point of view. We did consider that early on in our work and rejected it for a couple of reasons.
- One was the time constraints we were under and the cost of doing focus groups.
- But probably the most important reason is that if you get 15 people in a room who are recent purchasers of life insurance and then spend an hour or two dissecting the sales process and the use of their illustrations in that sales process, you're likely to have 13 people coming out slightly or greatly disillusioned over what they just did.
We found that our field force and our marketing department didn't like that idea at all.
So if somebody could think of a way to get to the consumer without causing real problems among recent buyers, who are our most fragile customers, we would like to hear it.
---
MS. FAUCETT: In line with John's comments, we were told by one group that actually runs focus groups that if you got a group of recent purchasers of insurance in a room, you might get responses of what they think they did or what they think they should have done, as opposed to what they actually did.
1991 - ILLUSTRATIONS, Society of Actuaries
It seems more like we are focused within, and we are afraid to go out and ask the consumer, "What do you really want?"
Maybe we need to have some focus groups.
But, as I say, maybe that too would be a problem because we do not even know the right questions to ask because we have not educated our customer about our products and services. 
--  Larry J. Bruning
1996 - Nonforfeiture Law Developments, Society of Actuaries - 23p
2001-4V1 NAIC Proceedings
Do Product Disclosures Inform and Safeguard Insurance Policyholders? -11p
Baseline Consumer Surveys
Formisano's survey of life insurance policyholders is now some 20 years old and is in dire need of updating and elaboration. An important first step would be to survey groups of recently enrolled policyholders (e.g., universal life, long-term care, credit life) who have been exposed to the current generation of NAIC model disclosures. The purpose would be to obtain baseline data about their exposure to and awareness of disclosure messages, comprehension of key disclosures, the beliefs and meanings they extract from product messages, and their ability to use disclosures correctly.
3. Effectiveness of Disclosures
Commissioner Morrison asked the NAIC staff to report on the literature search on the effectiveness of disclosures. Ms. Lindley-Myers indicated that the research centered on the effectiveness of disclosures and their usefulness as related to insurance products. Unfortunately, there is very little information available on this topic. With the exception of product liability and warranties, there is very little information involving disclosure in an insurance setting. However, she indicated that Larry Kirsch of IMR Health Economics, LLC in Brookline, MA, had produced an issues generating paper entitled, Do Product Disclosures Inform and Safeguard Insurance Policyholders? (Attachment Three-C).
1994-4
ATTACHMENT TWO-A
NAIC CONSUMER INFORMATION RESEARCH PROJECT
December 10, 1994
1. PROJECT SCOPE
The project will be conducted under the oversight of the NAIC and the Consumer Information Working Group. The design of the research and the release of the final report will be subject to the approval of the NAIC.
---
Tim Ghan (Nev.) presented a draft research proposal for a study of consumer information in personal lines insurance (Attachment Two-A). The proposed study would involve three steps: 1) a review of the relevant literature; 2) an analysis of the extent of consumer information and its impact on competition and market performance; and 3) an analysis of how consumer information could be most effectively enhanced.
---
Brenda Cude (Cooperative Extension Service at University of Illinois - Champaign/Urbana) noted the widespread lack of consumer knowledge about insurance, citing a Consumer Federation of America (CFA) study that found that the adults tested were able to answer only 54% of the insurance questions they were given.
She stressed the difference between consumer information and education and why both are important. She added that there is a need for information that time-pressed and limited reading ability individuals can use easily at the point of need. Sam Sarab (W.Va.) suggested that consumers could be surveyed as to the different information sources they have been exposed to.
---
Robert Klein (NAIC/SSO) responded that the personal lines market study would not analyze the quality of consumer information, as contemplated in the proposal.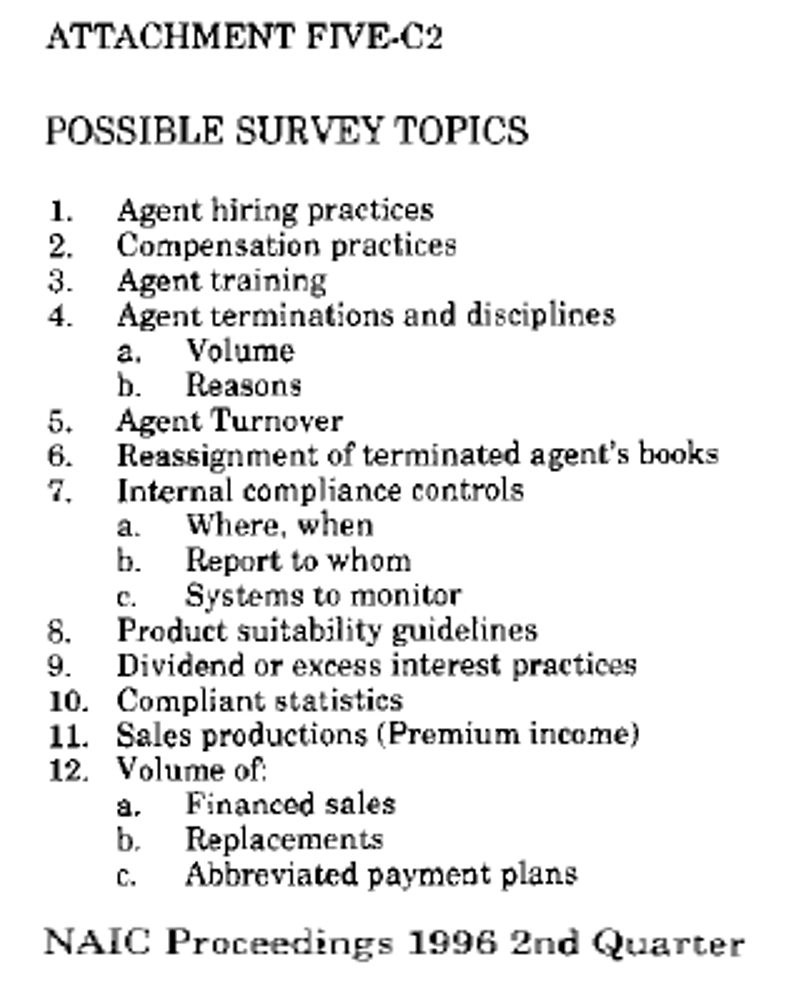 Commissioner Lyons reported that AARP will be doing a review with senior citizens on the readability and understandability
of the disclosure form. He reminded committee members that the working group will be doing additional work to determine
whether these policies provide minimum values to consumers. He said that decision would be made after an NAIC staff
actuary completes a study of the value of these policies. The working group plans to provide that information and its
recommendations to the Life Insurance (A) Committee in 1991.
1991-1A
Because of the concerns expressed by several states over the potential impact of the survey and at the suggestion of NAIC
staff, a draft of the survey was forwarded to the Special (EX) Committee on the McCarran-Ferguson Act.
The Executive
Committee designated Commissioner Earl Pomeroy, as chair of that committee and as the President of NAIC, to provide
further input and direction.
Accordingly, on Sept. 10, I met with Commissioner Pomeroy, along with Mike Hessler (Ill.), Tom
Reents (Neb.) and Art Chartrand (NAIC) to review these issues.
First, I wish to greatly express my appreciation to Commissioner Pomeroy for articulating his concerns and providing a
productive framework for this subgroup to continue to carryout its charge. As a result of that meeting, lt was mutually agreed
to suspend the activity on the current survey and to proceed as follows:
2. Commissioner Pomeroy was very supportive of the subgroup recommending to EX3 Subcommittee that it pursue its
investigation and make any appropriate recommendations in regard to the use of purported "consumer'' groups fronting as
leads or advertising agencies for insurance companies.
1991-1A, TO: Members of the Market Conduct & Consumer Affairs (EX3) Subcommittee
FROM: Brad Connor (Mo.), Chair of EX3 Subgroup on Unfair Trade Practices
DATE: October 11, 1990 .
RE: Meeting with NAIC Leadership on Subgroup's Projects