Interest Rate Risk - (C-3)
In many jurisdictions, insurance companies have expended significant efforts to understand
the sensitivity of their investment portfolios to underlying market risks, especially interest rate
risk.
2001 11 - BIS - The Joint Forum - Risk Management Practices and Regulatory Capital Cross-Sectoral Comparison - 126p
The mismatch between the cash flows from assets and liabilities for traditional products like universal life or fixed annuities is due mostly to interest rate risk. (p18)
2018 - IAIS - GLOBAL INSURANCE MARKET REPORT [GIMAR] - 72p
C. L. Trowbridge coined the term C-3 risk to denote the risk of losses due to changes in interest rates.
1988 - SOA - Algorithms for Cash-Flow Matching, Society of Actuaries - 8p
Life insurance companies are also largely exposed to interest rate risks through long-term life insurance products with guaranteed interest rates. (p20)
2001 - BCBS - RISK MANAGEMENT PRACTICES AND REGULATORY CAPITAL CROSS-SECTORAL COMPARISON, Basel Committee on Banking Supervision, The Joint Forum -  126p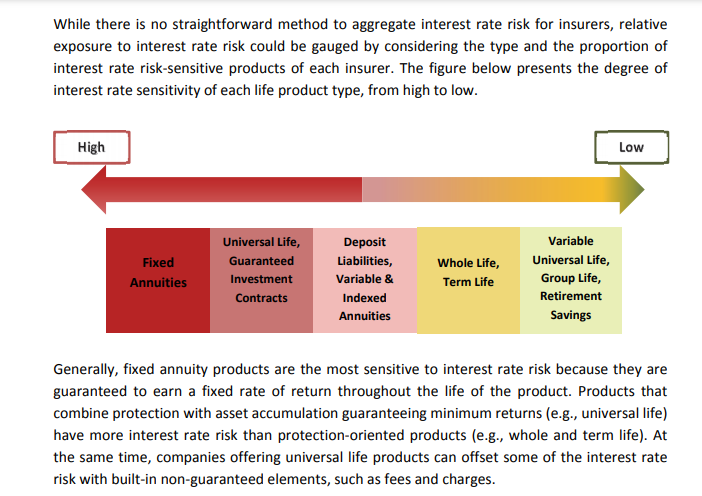 The December 12, 1981 report on this subject discussed the risk of loss to a life insurance company from changes in the interest rate environment (now commonly referred to as "(C3) risk"), and its implications for actuarial opinions of reserve adequacy and minimum surplus tests.
We noted a number of important projects underway and indicated chat we would monitor the projects and report to the TSAG on progress in the spring of 1982.
We do that with this report.
1982-2, NAIC Proceedings
A major problem facing the insurance industry today is interest rate fluctuations.
If the terms of the assets are shorter than those of the corresponding liabilities, reinvestment risk arises because interest rates can fall.
On the other hand, if assets are invested longer than liabilities, then disinvestment risk exists because interest rates can rise.
1988 - SOA - Algorithms for Cash-Flow Matching, Society of Actuaries - 8p