The working group next discussed the appropriateness of including a requirement for a consumer signature on the document.
The group decided it was important not to imply consumer understanding of what was in the illustration but just an acknowledgment of receipt of the illustration.
1994-2, NAIC Proceedings
I think that requiring the policyholder's signature does serve a purpose, which is not legal coverage for the company, of allowing the home office to know that the policyholder has received the last page of the illustration that contains the required disclosures.
--  MR. MICHELSON
1995 - PRACTICAL ILLUSTRATIONS AND NONFORFEITURE VALUES, Society of Actuaries - 14p
Noel Morgan (Ohio) said he was uncomfortable with the disclosure statement required to be signed by the consumer.

He said it took away too much from the consumer.

Bob Wright (Va.) agreed that this went much further than the working group had intended.

Mr. Coleman responded that insurers need to get something out of this compromise also.

He suggested this would allow companies a little protection.

Mr. Phillips suggested that the second sentence of the disclosure statement had too much legalese.
1994-4, NAIC Proceedings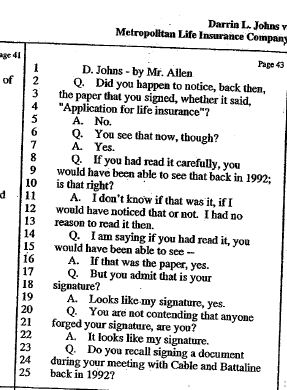 2006 - Case 8:93-cv-01849-SDM Document 382-13 Filed 08/31/2006 Page 12 of 41
2006 DP Darren L Johns v MetLife 43p.pdf