"Target" premiums for universal life are those premiums upon which full first year commissions are paid.
2017 - Protective Life, 10k- [LINK]
In our Universal Life products, we need to find that critical point, or what is as important, what is the best level of premium relative to the target premium.
You don't want all target premiums.
In fact, the lower the premium is, the closer to the minimum premium, the happier we are.
How do we communicate that to our agency people?

--  RICHARD SCHWARTZ, (responsible for the product marketing function for the agency distribution systems for the Sun Life Group of America)
1986 - ORGANIZING THE PRODUCT DEVELOPMENT FUNCTION, Society of Actuaries - 46p
If your training process for your agents is to sell at target premium, for example, and target premium carries the policy to maturity at a 7 percent rate, if you're only crediting 6, it's not making it there.
So keep an eye on how you're training your agents to sell your products and try to avoid problems up front in the product performance before they become a premium risk problem.
--  JOSEPH E. PAUL
2001 -  Investment Strategies to Maximize Yield, Society of Actuaries
An approach which seems to be gaining in popularity expresses commissions as a percent of a target or a minimum premium.
1983 - Universal Life, Society of Actuaries - 24p
Mr. Herget: Our next speaker is Paul Hekman, an FSA and a member of the AAA. Paul is a vice president at PolySystems...
He also was one of the first to develop the target premium concept of agent compensation for flexible premium universal life insurance contracts.
1997 -Anatomy of an Earned-Interest Rate, Society of Actuaries
As a result of the declining interest rates during the first ten years, the amount accumulated in the deposit fund after ten years is less than anticipated when the contract was issued, and less than necessary to keep the contract in force for the long term if the original "target premium" assumptions were continued.
Industry experience indicates that policyholders will increase their renewal premium payments in order to maintain their valuable insurance and minimum deposit interest rights.
For purposes of these Illustrations, we assume that the policyowner wishes to keep the UL contract in force and increases the renewal premium payments from duration ten.
Therefore, after the tenth year, an increase in the rate of premium payments into the deposit fund is illustrated sufficient to provide funds to maintain the contract in force under the changed financial conditions.|
In practice, policyholders are continually modifying their behavior to reflect changing circumstances.
2004 - Renewal Premiums and Discretionary Participation Features of a Life Insurance Contract.  A Joint Research Project of the ACLI/IAA - 88p
Maybe he is not getting all the disclosure he needs, as far as the continuing benefit is concerned, when the interest rates change from that illustrated.
Products which are sold with target premiums

may not have had the fact considered that in any proposal based on high interest rates over long periods, more coverage will be needed.

We would be happy to illustrate the other way for the policyholder if he wants it that way, but I don't think he knows that he wants it that way.
-- JAMES N. PARRISH
1982 - Universal Life, Society of Actuaries - 14p
The complaint set forth a litany of alleged facts misrepresented or concealed from policyholders, including,..... (d) Farmers encouraged setting the premium for FFUL policies no higher than a "target" rate, by its commission structure; however, policies would lapse when only the target premium was paid;
Plaintiffs also noted that Farmers's computerized rate-setting program would inform agents of the minimum and target premiums, thus suggesting that the premium be set between these two numbers, and no higher.
Plaintiffs' argument regarding the underfunding of the FUL policies was more direct.

As Farmers set the premiums on these policies, it was solely within Farmers's control to establish initial premiums high enough to accrue sufficient interest so that the policies would be on track to last until maturity. 
Farmers set the premiums based on a presumed 11.5 percent interest rate, which plaintiffs argued was unrealistically high, and would result in the policies lapsing.
2011 - FAIRBANKS v. FARMERS NEW WORLD LIFE INSURANCE CO - Scholar.google.com
Actually, a target premium can be calculated in this manner for any number of years: so it can be used in a UL proposal system to calculate the premium required to reach a certaln fund at a certain point.
..........................................................................
Calculate Target Premium Directly
.........................................................................
TARGET. PREMIUM :
" Start thru calculation from last year forward.
" If calculating to maturity, target age is (maturity age - I).
• This is because you are going to the END of the previous ago
1993 - Speeding Up Universal Life Calculations in BASIC, Dennis Radliff, Society of Actuaries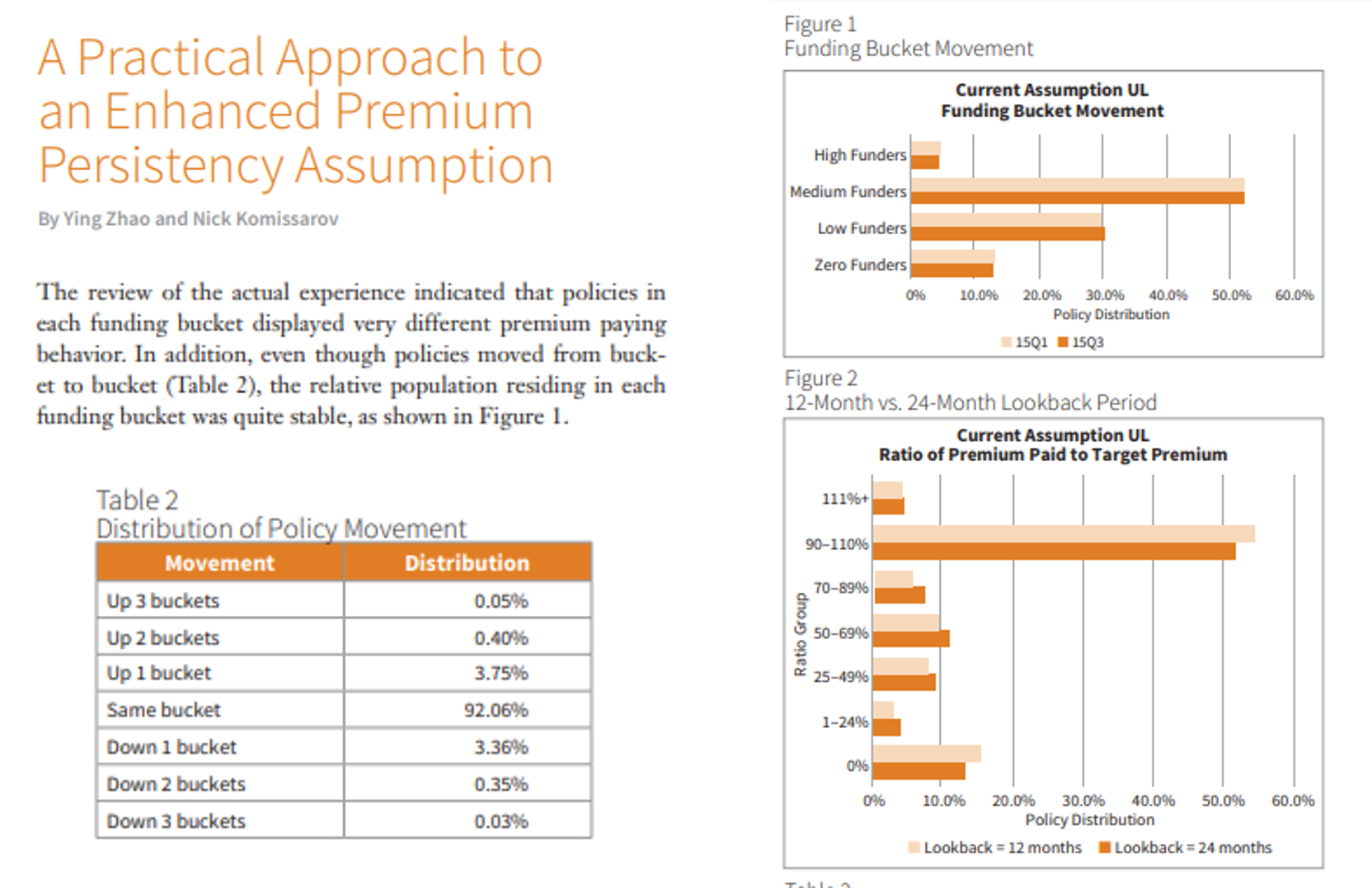 2016 - A Practical Approach to an Enhanced Premium Persistency Assumption, Ying Zhao and Nick Komissarov - 4p
https://www.naic.org/.../committees_e_capad_lrbc_C3P3_Scope_Exposure_ 2010-01-14.pdf 
from lapsing during an initial surrender charge period as long as a certain target premium is paid. These guarantees are conceptually similar to secondary ...
www.naic.org/.../committees_e_emerging_actuarial_issues_related_eaiwg_ interpretations.pdf
Nov 20, 2012 ... percentage of premiums up the target premium and 0% thereafter. This will always mathematically produce the same result as the capped ...
https://www.naic.org/documents/prod_serv_marketreg_exc_zu.pdf
based on objective criteria not on perceived competitive pressures.) Determine if the company is adjusting individual premiums to target premium levels for.
The "target premium" Universal Life differs from the classic product in several respects.
First of all, commissions are expressed as a percentage of the target premium and typically are comparable to non-par whole llfe.

So it might be something like 90% of $10 per thousand.

Commission percentages are the same for all ages and all face amounts.

And commission percentages generally are quite high, as I mentioned, perhaps in the range of 90%.

The "target premium" plan is currently the most popular Universal Life type policy being developed and it is expected that the trend toward developing this type of plan will continue.
Why is this?
First of all, the plan has a simple commission structure, just like the whole life policy with which the agents are accumstomed.
Secondly, it pays the higher commission rate that the traditional agent is familiar with.
And as more traditional companies enter the Universal Life marketplace, this is sort of a middle-of-the-road approach.
The companies can say that they have Universal Life but it has the high commissions with which the agent is familiar on traditional whole llfe plans.
Now in the long term (whether that's six months or six years), one might expect the trend back to the classic Universal Life with the three factor approach, having somewhat lower commissions, especially on savings, and commission rates that reduce by policy size.
Basically, it is very difficult to analyze exactly what's happening with loads and commissions.
But if one looks at the target premium whole life, it is clear that the load and the commission on the savings element involved is quite high, relative to alternative products being offered by other industries.
In the long term, it is impossible to compete for savings dollars with very high front-end loads and high commissions on the pure savings element of the product.
In addition, we are about the only industry that still doesn't recognize "cheaper by the dozen" and offer substantially discounted prices and compensation for larger type policies, which is a basic feature of classic Universal Life. 
--  RANDALL P. MIRE
1983 - Universal Life, Society of Actuaries, (rsa83v9n32) - 22p
Issue / Question
1. A shadow account product has a design feature where the premium load is expressed as a fixed percentage of premium up to the target premium, where the target premium is reasonably consistent with level premium funding of the lifetime guarantee. In effect, there is a fixed dollar cap on the annual premium charge. The literal form of the charge is simply a specified percentage of premiums up the target premium and 0% thereafter. This will always mathematically produce the same result as the capped charge described above. Please clarify that a fixed dollar cap for the premium load, regardless of how the cap is expressed, does not make such a product incompatible with Policy Design # 1.
Interpretation of the Emerging Actuarial Issues (E) Working Group - Actuarial INT 12-24
Date Adopted by Emerging Actuarial Issues (E) Working Group - December 19, 2012
Date Adopted by Financial Condition (E) Committee - December 20, 2012
Reference - Actuarial Guideline 38- The Application of the Valuation of Life Insurance Policies Model Regulation